They say that every singer wants to be an actor and every actor wants to be a singer. Well, we don't know about that, but sometimes it does seem like every self-respecting actor will also appear on a music video at some point of their career. From Scarlett Johansson to Milo Ventimiglia, take a look at the successful actors who've also starred in music videos – but that you might have missed or didn't recognize at the time.
1. Courtney Cox in Bruce Springsteen's Dancing in the Dark, 1984
The Friends star was an emerging actress when she got her first big role: an excited fan at a Springsteen concert, who ends up dancing with The Boss on stage. 
Cox later admitted that she was so nervous to be dancing in front of a packed room, she was hoping Springsteen will end up choosing someone else – but ultimately that was the moment the changed her career.

2. Mila Kunis in Aerosmith's Jaded, 2001
While everyone remembers Alicia Silverstone's performance in Aerosmith's Crazy, many forget that Mila Kunis has also starred in the band's video. 
It was in Jaded, where she plays a sad (and pretty creepy) young girl, who is so 'jaded' she can't even cry – that is, until the video's finale where she produces two happy tears.
3. Eva Mendez in Will Smith' Miami, 1998
Nearly a decade before Mendes and Will Smith collaborated on hit movie Hitch, she participated in the video for his song Miami.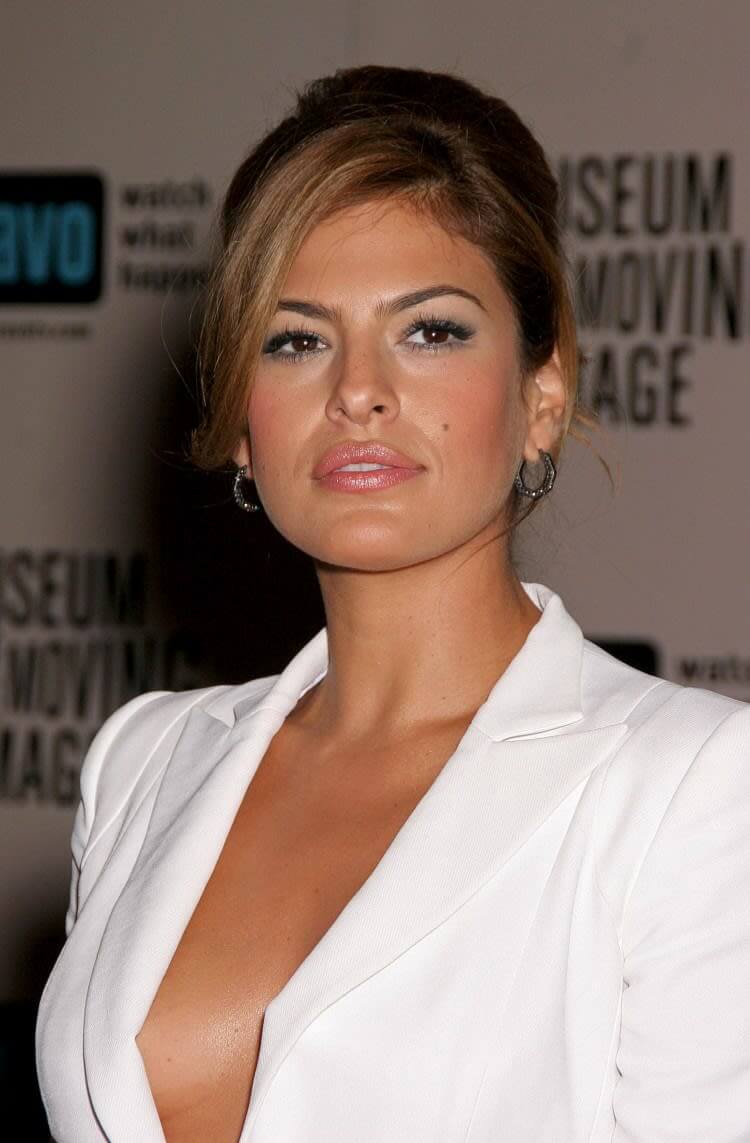 In the video, while Smith and his buddies are cruising through the streets of Miami, they drive by a convertible driven by Mendes and her friend, and the two are singing the catchy lines "Welcome to Miami, Bienvenidos a Miami."

4. Alyssa Milano in Blink 182's Josie, 1998
Alyssa Milano was a wonder-child in the 90s thanks to her role in Who's the Boss?, but not many remember that she also participated in Blink 182's video for Josie. 
In the video she plays Mark Hoppus' (Blink's lead singer) love interest, in a comedy of errors taking place in an all-American high school.
5. Channing Tatum in Ricky Martin's She Bangs, 2000
In the late 90s Channing Tatum was working as a male stripper and a model, and this Ricky Martin video was his first professional gig as a dancer. 
In the video for She Bangs he plays a half-naked bartender slash dancer, and sports a set of impressive abs. This isn't Tatum's only music video performance – he later appeared on Ciara, Sean Paul, and Pink videos.

6. Angelina Jolie in The Rolling Stones' Anybody Seen My Baby?, 1997
Even though this video was filmed when Angelina Jolie was already becoming a well-known actress, not many remember she was actually in it.
In the video she plays a stripper who leaves the club mid-performance, which then prompts lead singer Mick Jagger to go looking for her in the streets of New York (spoiler: he doesn't find her).

7. Evan Rachel Wood in Green Day's Wake Me Up When September Ends, 2004
According to the video's director, the clip was supposed to be a 'mini-film' and not just another music video, and that's why it included dialogues – and professional actors.
Evan Rachel Wood and Jaime Bell (who were also a couple in real life at the time) play a loving couple, who vow to never leave one another. However, the guy decided to join the army and go to war in Iraq – a mission he never returns from.
8. Milo Ventimiglia in Big Girls Don't Cry, 2007
The This is Us star was cast as Fergie's bad boy, tatted up love interest, who breaks her heart when she discovers he deals drugs. 
By the way, the video has also an 'extended' version where the song is played twice (but Milo's role is unfortunately not bigger).
9. Scarlet Johansson in Justin Timberlake's What Goes Around… Comes Around, 2007
For this movie-like video Justin Timberlake wanted to cast a 'real' actress, and chose Scarlet Johansson, one of Hollywood's leading ladies.
The video includes many steamy scenes between the two, but it takes a dark twist when Johansson's character cheats on the singer with his best friend – and later dies in a car chase.

10. Alexander Skarsgård in Lady Gaga's Paparazi, 2009
The Swedish actor plays Gaga's boyfriend, and the video opens with the two of them kissing in bed, and speaking Swedish. However, he later pushes her from the balcony, and she get her revenge on him, killing him by the end of the song. 
The music video for Lady Gaga's Telephone is a continuation of this story, and it opens with the lady - who's now in prison.